Your easy-to-digest brief introduction to SEO (search engine optimization) – an imperative methodology used to improve the visibility of websites using different strategies and techniques.
Using a calculative and practical approach, this book teaches you the techniques, practical implementations, and concepts of SEO that will enable you to get to grips with the fundamental aspects of search engine optimization.
Introducing SEO jumpstarts your knowledge using an easy-to-follow approach – add it to your library today.
Beginning SQL Queries, 2nd Edition : From Novice to Professional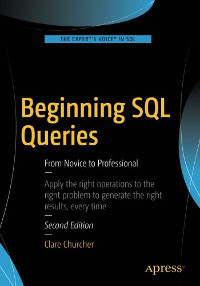 Get started on mastering the one language binding the entire database industry. That language is SQL, and how it works is must-have knowledge for anyone involved with relational databases, and surprisingly also for anyone involved with NoSQL databases. SQL is universally used in querying and reporting on large data sets in order to generate knowledge to drive business decisions.
Good knowledge of SQL is crucial to anyone working with databases, because it is with SQL that you retrieve data, manipulate data, and generate business results. Every relational database supports SQL for its expressiveness in writing queries underlying reports and business intelligence dashboards. Knowing how to write good queries is the foundation for all work done in SQL, and it is a foundation that Clare Churcher's book, Beginning SQL Queries, 2nd Edition, lays well.
Beginning Ruby, 3rd Edition : From Novice to Professional
Learn the principles behind object-oriented programming and within a few chapters create a fully functional Ruby application. You'll also gain a basic understanding of many ancillary technologies such as databases, XML, web frameworks, and networking – some of which are needed as part of a fully functioning Ruby application.
Based on the bestselling first and second editions, Beginning Ruby, 3rd Edition is a leading guide to learn Ruby from the ground up. The new edition of this book provides the same excellent introduction to Ruby as the previous editions plus updates for the newest version of Ruby 2.3 which includes new garbage collection support of symbol type objections, a new incremental garbage collector, memory management, vfork(2) with system and spawn functions and much more. This book can also be used as a textbook or companion to a textbook on beginning Ruby programming.
The light and agile Ruby programming language remains a very popular open source scripting option for developers building today's web and even some enterprise applications. And, now, Ruby also has applications using the Raspberry Pi, popular among hobbyists and makers. Many former Java developers still use Ruby on Rails today, the most popular framework for building Ruby applications.
Relational Database Programming : A Set-Oriented Approach
Learn the best way of writing code to run inside a relational database. This book shows how a holistic and set-oriented approach to database programming can far exceed the performance of the row-by-row model that is too often used by developers who haven't been shown a better way.
Two styles of programming are encountered in the database world. Classical programming as taught in many universities leads to an atomic, row-oriented, and procedural style inspired by the structured models of programming. In short, many application developers write in the relational database exactly like in the user interface. The other style of programming is holistic, data set oriented, and coded mainly in SQL. This is the style of the database developer.
The set based and holistic style of development is not promoted enough in universities, and many application developers are not fully aware of it. There are many performance issues all over the world in relational databases due to the use of the atomic and inappropriate style of programming. This book compares the two styles, and promotes the holistic style of development as the most suitable one. Examples are given to demonstrate the superiority of a set-based and holistic approach.
OS X App Development with CloudKit and Swift
This book is your step-by-step guide to learning OS X app development using CloudKit and Swift.
All the development will be done using Apple's Swift 2 programming language. You'll see how to define data for your app and build a prototype with Sketch 3 and Keynote. Using CloudKit to store OS X application data, and separate public and private data, readers will learn how to control which data can or cannot be changed in a public data store. OS X App Development with CloudKit and Swift takes you from prototyping your app with Sketch 3 all the way through building a data-driven app using CloudKit, and everything in between.
Java XML and JSO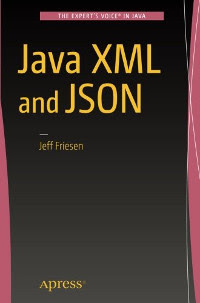 This is your one-stop guide to mastering the XML metalanguage and JSON data format along with significant Java APIs for parsing and creating XML/JSON documents (and more). The first six chapters focus on XML along with the SAX, DOM, StAX, XPath, and XSLT APIs. The remaining four chapters focus on JSON along with the mJson, GSON, and JsonPath APIs.
Each chapter in Java XML and JSON ends with select exercises designed to challenge your grasp of the chapter's content. An appendix provides the answers to these exercises.
.NET Development Using the Compiler API
This is the first book to describe the recent significant changes to the .NET compilation process and demonstrate how .NET developers can use the new Compiler API to create compelling applications. As an open source compiler, the Compiler API now makes its code available for anyone to use. In this book, you'll get a concise, focused view of this tremendous resource for developers, who can now use any part of the platform implementation to their advantage in analyzing applications, improving code generation, and providing enforceable patterns, all under an OSS model.
You will learn how to analyze your code for defects in a fast, clean manner never available before. You'll work with solutions and projects to provide automatic refactoring, and you'll discover how you can generate code dynamically to provide application implementations at runtime
Having the Compiler API available opens a number of doors for .NET developers that were either simply not there before, or difficult to achieve. However, the API is vast, and this concise book provides a valuable roadmap to this new development environment.
Securing PHP Apps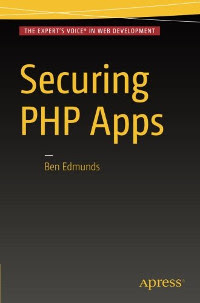 Secure your PHP-based web applications with this compact handbook. You'll get clear, practical and actionable details on how to secure various parts of your PHP web application. You'll also find scenarios to handle and improve existing legacy issues.
Is your PHP app truly secure? Let's make sure you get home on time and sleep well at night. Learn the security basics that a senior developer usually acquires over years of experience, all condensed down into one quick and easy handbook. Do you ever wonder how vulnerable you are to being hacked? Do you feel confident about storing your users' sensitive information? Imagine feeling confident in the integrity of your software when you store your users' sensitive data. No more fighting fires with lost data, no more late nights, your application is secure.
Well, this short book will answer your questions and give you confidence in being able to secure your and other PHP web apps.
CSS Mastery, 3rd Edition
Fully updated to the latest CSS modules, make the journey to CSS mastery as simple and painless as possible. This book dives into advanced aspects of CSS-based design, such as responsive design, modular CSS, and CSS typography. Through a series of easy-to-follow tutorials, you will learn practical CSS techniques you can immediately start using in your daily work.
CSS Mastery: Advanced Web Standards Solutions is your indispensable guide to cutting-edge CSS development—this book demystifies the secrets of CSS. While CSS is a relatively simple technology to learn, it is a difficult one to master. When you first start developing sites using CSS, you will come across all kinds of infuriating browser bugs and inconsistencies. It sometimes feels like there are a million and one different techniques to master, spread across a bewildering array of websites. The range of possibilities seems endless and makes for a steep and daunting learning curve.
Building a Comprehensive IT Security Program : Practical Guidelines and Best Practices
This book explains the ongoing war between private business and cyber criminals, state-sponsored attackers, terrorists, and hacktivist groups. Further, it explores the risks posed by trusted employees that put critical information at risk through malice, negligence, or simply making a mistake. It clarifies the historical context of the current situation as it relates to cybersecurity, the challenges facing private business, and the fundamental changes organizations can make to better protect themselves. The problems we face are difficult, but they are not hopeless.
Cybercrime continues to grow at an astounding rate. With constant coverage of cyber-attacks in the media, there is no shortage of awareness of increasing threats. Budgets have increased and executives are implementing stronger defenses. Nonetheless, breaches continue to increase in frequency and scope.
Building a Comprehensive IT Security Program shares why organizations continue to fail to secure their critical information assets and explains the internal and external adversaries facing organizations today. This book supplies the necessary knowledge and skills to protect organizations better in the future by implementing a comprehensive approach to security.